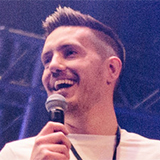 Youth Leaders' Day
Youth evangelism – does it still work? Can we reach a nation?
Tom Butler, Message Trust
Thursday 19th October, 3pm, Room 1
How do you reach young people today? Do they even care about the Gospel? And if so, how do we mobilise the church to reach them?
In this seminar you will:
• Find out how young people can still be reached with the gospel
• Learn how to communicate naturally with a different generation
• Reclaim 'evangelism': it's not a dirty word!
• Discover your part in communicating the greatest message of all
Back to the seminar speakers
See the complete seminar programme
Share this page