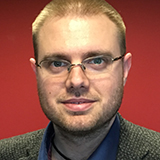 Three tech lessons I wish I'd learnt years ago
Tim Horton, B+H Sound
Wednesday 17 October, 2pm, Room 3
There are always things we can learn, but some lessons are harder than others. We'll unpack three things that every techie should know. We've learnt the hard way so you don't have to!
In this seminar you will:
• Get some useful tips on how to solve problems with your church sound system
• Get some useful tips on how to solve problems on your church audio-visual system
• Be given practical ideas on improving your church sound system
• Be given practical ideas on improving your church audio-visual system
• Walk away with a do and don't checklist