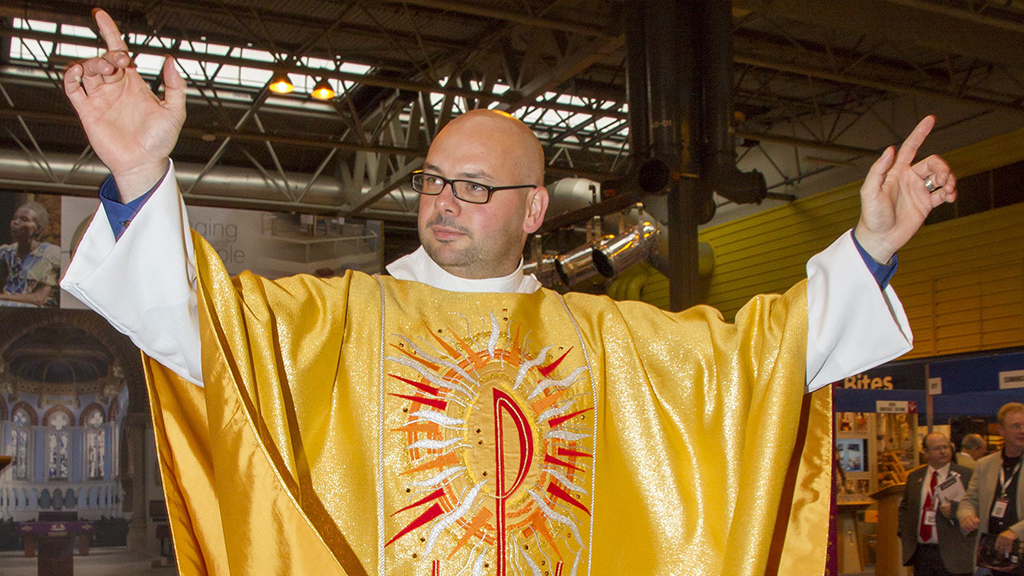 By
CRE
Mitres, stoles, capes and chasubles – the traditional clothing of Church of England clergy – may disappear from churches services after the Church of England voted last week to allow ministers to 'wear what they want'.
It's proved a difficult time for ecclesiastical designer Juliet Hemingray, a long-time CRE exhibitor, who has led the way in not only adding colour to vestments but, through her designs, making allusions to biblical narratives.
'They are visual aids,' she explains, 'and do not form a barrier between wearer and observer. The subject matter on the stole or scarf, for example, can start helpful conversations.'
Juliet's business began in 1979 when a close friend asked her to decorate a plain black preaching scarf with scenes that would appeal to children.
'Orders poured in for bespoke designs reflecting the faith of customers,' she recalls. 'I have created 13 jobs and enabled more than 30,000 people to portray the Gospel in a way that is personal and meaningful. One friend in Tennessee told me he couldn't remember any sermons from his early church life but recalled symbols on vestments and hangings. They meant a great deal to him.'
Juliet believes there is room for both options – vestments or more informal clothing.
'My choice is obviously the first, purely from a Gospel-preaching standpoint,' she says. 'But you should make the most of whatever you are wearing and when you are not speaking, let the garment speak!'
Her view was reflected at two recent meetings in Lancashire. More than 4,000 schoolchildren gathered at Ewood Park, the home of Blackburn Rovers, for a talk given by the Bishop of Burnley, Rt Rev Philip North. Dramatically, he revealed an Arsenal shirt under his vestments, using the long-standing rivalry between Division One team Blackburn and Premier League Burnley FC to discuss the importance of loyalty.
Only a week before Canon Mark Jones, vicar of St Leonard's Church in nearby Padiham, wore a Queen's Park Rangers' shirt – the team he supports – in front of 200 children from the local primary school. He wore it to illustrate how belonging to and supporting a child is an important part of any christening service. He 'baptised' a baby doll for two seven-year-old pupils.
In an area in which some members of the clergy have ignored the rulings and worn no clerical identification or the minimum for some time, the new pronouncement gives everyone the opportunity to be free and easy on some social occasions and add colour and pomp on others – without causing offence. It may even offer those 'wearing parables' to speak clearly to their congregation without uttering a word.
Step forward, Juliet!
David Hall
Juliet will be on Stand S129 at CRE 2017