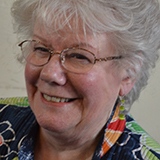 How to tackle loneliness and bring the Kingdom of God into your community
Louise Morse, Pilgrim Friends' Society
Wednesday 16 October, 11am, Room 1
Understanding the different causes of loneliness is a major part of how to help people effectively. This seminar is about what works in our communities and brings people into church.
In this seminar you will:
• Know more about the three main causes of loneliness and how to tackle them
• Hear of an effective strategy that brings people into church, street by street
• Learn how to engage the whole church so that everyone is involved, not just the usual movers and shakers!
• Discover how this prompts generations working together, young and old
• Find out how meeting the needs of lonely people can build your church