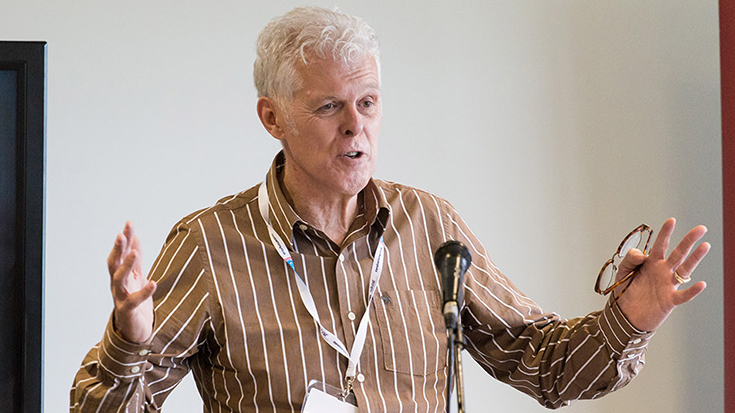 Hosting seminars on their own extended stand for the first time, the Evangelical Alliance will cover some key subjects in 12 seminars – across all three days of CRE 2018
The largest and oldest body representing the UK's two million evangelical Christians, the Evangelical Alliance brings Christians together and helps them listen to and be heard by, the government, media and society.
The EA will be at CRE 2018 to offer visitors guidance on a dozen issues like 'Releasing your congregation for public leadership' (Abi Jarvis), 'Five top tips for conflict resolution' (Jo Frost) and 'Speak up: the law and our gospel freedoms' (Richard Godden and Flavio Guaratto).
Joining them will be Steve Clifford, EA's general director, who will speak on 'Ethnic integration' with Yemi Adedeji, EA's director of the One People Commission.
In the current edition of EA's IDEA magazine, Steve writes: 'Let's thank God he didn't leave the Great Commission to my bit of the church, my network, my denomination, my group of friends. He called us to share his mission in all of our diversity of backgrounds and traditions.'
You will find the EA seminar stream behind the EA stand S155. Space is limited so be there early to ensure your seat.
TUESDAY 16 OCTOBER
Evangelism in a changing landscape
Tuesday 16 October, 11am, Rich Powney, EA
Exploring different ways to be an effective witness in the 21st century.
Read more here
Cultivating an evangelistic culture in your church
Tuesday 16 October, 12 noon, Rachael Heffer
How to equip your church to engage creatively with the community on your doorstep.
Read more here
Fuelling a passion to make Jesus known
Tuesday 16 October, 2pm, Eve Balshaw
Exploring some of the tools available to help us share Jesus wherever we are.
Read more here
Five top tips for resolving conflict in your church
Tuesday 16 October, 3pm, Jo Frost
An introduction to conflict resolution skills to help you navigate difficult conversations and personal conflicts.
Read more here
WEDNESDAY 17 OCTOBER
Why the future is in ethnic integration
Wednesday 17 October, 11am, Steve Clifford and Yemi Adedeji
Begin the journey of integration within your church and organization – and reap the benefit.
Read more here
Releasing your congregation for public leadership
Wednesday 17 October, 12 noon, Abi Jarvis
How to help people of influence fulfil God's calling – and by so doing, draw them deeper into church.
Read more here
Growing a vision for a transformed society
Wednesday 17 October, 2pm, Danny Webster
A presentation on some key challenges facing society and the opportunities for Christians to stand in the gap and speak up about them.
Read more here
Building Christ-centred businesses
Wednesday 17 October, 3pm, Manoj Raithatha and Dayalan Mahesan
Understanding the key principles of a kingdom business and how to set one up.
Read more here
THURSDAY 18 OCTOBER
Inheriting what we love
Thursday 18 October, 11am, Peter Mitchell
Why Christian education and educating Christians matters, and how the church can encourage and equip believers to glorify God through education.
Read more here
Communicating with young people in a digital age
Thursday 18 October, 12 noon, Phil Knox
How to encourage the most connected generation in history reach out to their friends in an authentic and relevant way.
Read more here
Speak up: the law and our gospel freedoms
Thursday 18 October, 2pm, Richard Godden and Flavio Guaratto
Find out what the law says about our freedom to share the gospel of Jesus – with gentleness, kindness and also boldness.
Read more here
Inspiring and equipping every young person to share their faith
Thursday 18 October, 3pm, Phil Knox
How we can help the most connected generation in history reach out to their friends in an authentic and relevant way.
Read more here
Complete seminar programme 2018
Download the programme
Photo: Steve Clifford speaking at CRE 2017. Credit: Cremetti Commercial