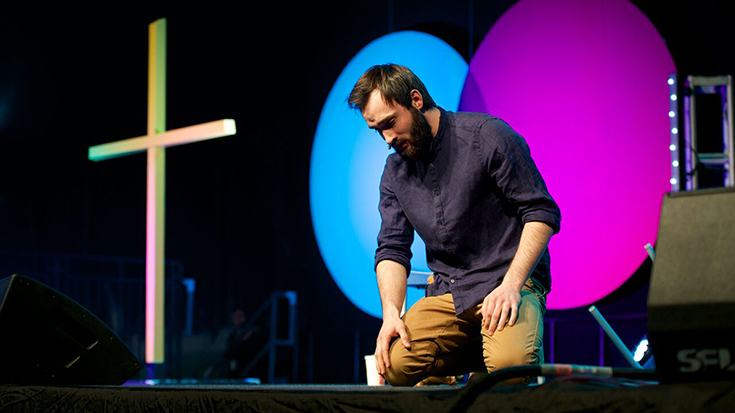 Become an inviting church, not just a welcoming one
Saltmine Theatre Co and Michael Harvey, National Weekend of Invitation
Wednesday 17 October, 2pm, Room 2
Saltmine Trust is a Christian charity and theatre company, inspired by the life and teaching of Jesus. Describing what they do as faith-motivated arts, their beliefs inspire them to care for and value every human being.
A dedicated team of actors, directors, writers, technicians, office, design and media staff, they passionately believe in the power of story.
'We create and retell stories, with a commitment to making a difference,' explained Saltmine's Rachael Orrell. 'Delivering high quality creative performances and interactive workshops, we always aim to impact lives and transform society. We also work with partner organisations to communicate their stories and educate on critical matters.'
One of those partners is the National Weekend of Invitation, making its debut at CRE 2018.
'Over the years we have discovered that about seven out of 10 Christians feel God may be prompting them to invite someone to church,' said Michael Harvey, who will introduce the National Weekend of Invitation to visitors at CRE 2018.
'However, eight out of 10 have no intention of doing so. We fear rejection, of failing and getting it wrong. We imagine God is only pleased with success. This creates a fear to invite. We are looking for a paradigm shift in church thinking about invitation and, in particular, the role of the inviter.'
Saltmine Theatre Co have written three sketches on the theme and will perform these in Michael Harvey's seminar, Become an inviting church, not just a welcoming one (2pm, Wed 17 Oct).
'Moving a church from considering itself welcoming to describing itself as welcoming and inviting is at the heart of the sketches,' said Michael. 'They are based on the three different angles – the importance of the result, the two people involved in an invitation and that God is leading mission.
'Over the years we have discovered that about seven out of 10 Christians feel God may be prompting them to invite someone to church. However, eight out of 10 have no intention of doing so. We fear rejection, of failing and getting it wrong. We imagine God is only pleased with success. This creates a fear to invite.'
• The National Weekend of Invitation are on stand B3 at CRE 2018
• Michael Harvey will speak on ' How your church can seize its biggest missed opportunity' (2pm, Wed 17 Oct)