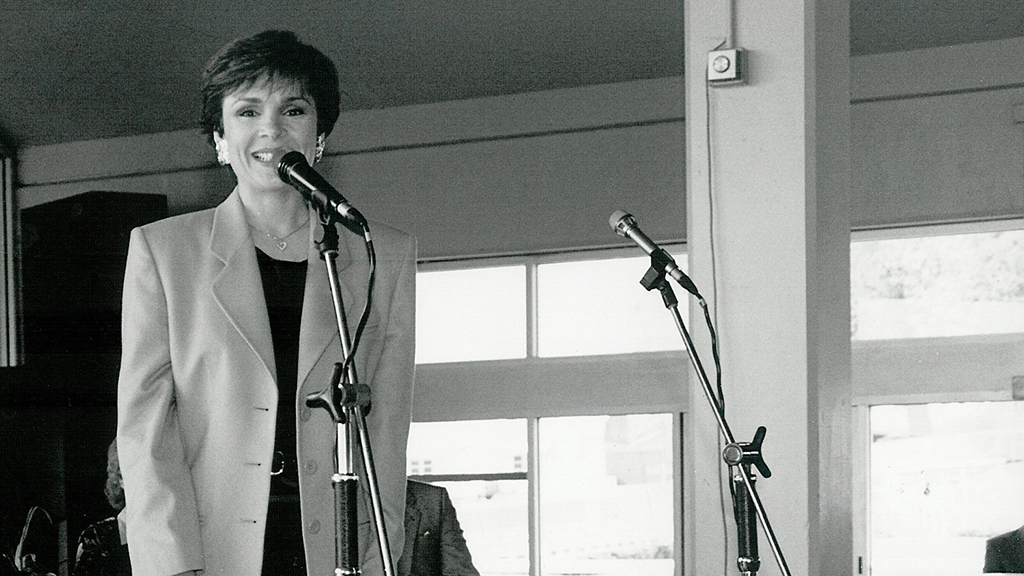 By
CRE
Irish singer Dana opened CRE in 1993 (see picture) and, we're delighted she will do the same again – cutting the tape on an exhibition that offers all kinds of everything for all types of churches.
Dana will be with us for three days, where she will be interviewed by Rev Cindy Kent MBE about her wide-ranging career in music and politics and take part in various special events.
As Ireland's first winner of the prestigious Eurovision Song Contest, the school girl from Derry became an overnight singing star, with a number one record throughout Europe. Years of recording success followed with chart-topping albums and singles and she hosted her own hit series, A Day Out with Dana (BBC), andWake Up Sunday (BBC).
In the midst of a successful mainstream career, Dana started to speak publicly about her faith. She and husband Damien began writing songs together, including Totus Tuus – inspired by the motto of the Late Pope John Paul II.
In 1987, Dana was invited to lead 86,000 young people in singing Totus Tuus for Pope John Paul II in the New Orleans's Super Dome. Around this time, she was also invited to sing at three of Dr. Billy Graham's Crusades, two in the US, and one in London's Wembley Stadium in the UK.
During the 1990s, she entered the world of politics, securing a nomination to run in the 1997 Irish Presidential election, the first non-political, non-party candidate ever to do so. She campaigned on protecting the Christian family values and life enshrined in the Irish Constitution, and earned a respectable 14 per cent of the votes, beating one of Ireland's major political parties. In 1999, she was subsequently elected as a Member of the European Parliament, representing Ireland's Connacht-Ulster constituency from 1999 to 2004.
Dana and her husband Damien have their own new music production company called DS Music Productions. She has remained close to her Irish roots, working tirelessly for peace and Christian family values.