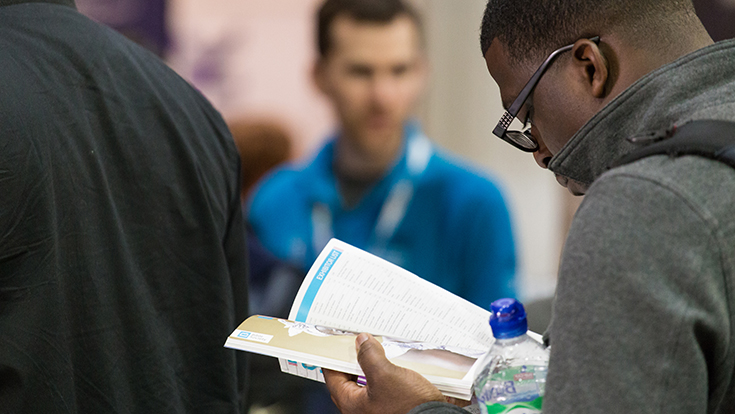 From youth work experts to textile designers, furniture makers to heating suppliers, some 150 exhibitors at CRE Midlands 2020 (and 26 more at the neighbouring Mission Resources Exhibition) will offer you idea after idea. For the complete list of who's who among our exhibitors, please scroll down this page.
Book your ticket here for CRE Midlands 2020!
If you are an exhibitor and would like to book a place at CRE Midlands 2020, please go to the Choose your stand page.
Exhibitors
Access Insurance
Action Planning
Agapé UK
Alpha Furniture
Amana Trust
Amazing Grace Spaces
AMDH Services
Ammerdown Centre
Andrew Silley
Anne Wray
Anthony J Smith
API communications
Apple Office Equipment
B+H Sound
Baart Harries Newall
Barnabas Fund
Bethel Convention Centre
Bible Society
Birmingham City Mission
Blazing Grace
Capernwray Hall
Care for the Family
Christian Copyright Licensing (CCLI)
Chinese Church Support Ministries (CCSM)
CFI Communications
Charities Aid Foundation
Charles Farris
Children's Society
Christian Guild
Christian Watch
Church Army
ChurchBuild
Church Edit
Church of England (Continuing)
Church of England: Life Events Diary
Clarity in Sound, Light & Vision
CLC Bookshops
Clergy Support Trust
Cliff College
CLO Coffee
Collared Clergywear
College of St Barnabas
Compassion UK
CPL Chartered Architects
CPO
Creation Ministries International
Creflo Dollar Ministries
Cunnings Recording Associates
David G Palmer
Day One Publishing
Distributed Sound & Video (DSAV)
Dunphy Church Heating
Ecclesiastical and Heritage World
Ecclesiastical Insurance
Edwards Insurance
Embrace the Middle East
EMJ Architects
Fullers Finer Furniture
Fund for Human Need
Germinate: Arthur Rank Centre
Gopak
Good News Evenagelistic Newspaper
Green Pastures
Harben House Hotel
Harvest Ministries
Hayes & Finch
Hazelton Mountford
Holy Socks
Hope at Home
Hope into Action: Coventry
Hospices of Hope
Hothorpe Venues
iKnow Church
Imaginative Creative Education
Institute for Children, Youth and Mission
Interserve
Irish Contract Seating (ICS)
Israel Ministry of Tourism
Juliet Hemingray Church Textiles
Jury's Inn
Kevin Mayhew
Kikobero Coffee
King Richard
Kingdom Coffee
Latin Link
Leap Architects
Lighthouse Audio Visual
Lighting Dynamics UK
Link to Hope
London School of Theology
Loveworld International
Loveworld Publishing
Loveworld TV
LWPT (Leaders of Worship and Preachers Trust)
MAF
McCabe Pilgrimages
MEB Design
Midhurst Publishing
Midshire Business Systems
Ministry of Music
Moorlands College
Motorcycle Funerals
NHS Blood and Transplant
Nicholas Hobbs Furniture
Nottingham Conferences
Novum AV
Parish Pump
Phasic Ltd
Pilgrims' Friend Society
Priory Automotive
Pulse Ministries
Reach Merchandise
Rock-tech
Rosehill Furniture
Send A Cow
Siloam Christian Ministries
SMG Architects
Society for Distributing Hebrew Scriptures
Spirit Café
Spurgeon's College
Star Advertising
St Clare's at the Cathedral
Taste & See
The Giving Stream
The Lions
The Worship Zone
thirtyone:eight
Thornleigh Hotel
Time for God
Tree House Wiltshire
Treske
Trinitas Church Insurance
UCAN
UCB
United European Airlines
USPG
URC/Reform
Walk Through The Bible
WEC International
Wigwam
Wiltshire Tree House
Yarnfield Park Conference Centre
Yeldall Manor
Youth For Christ
Youthscape