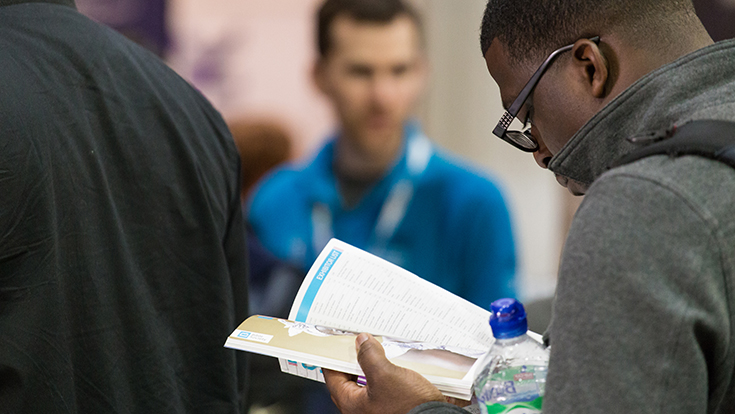 From youth work experts to mission agencies, and from furniture makers to heating suppliers, more than 200 exhibitors at CRE National 2019 offer you idea after idea. For the complete list of who's who among our exhibitors, please scroll down this page.
Click the button below to pre-register for CRE National 2019 for as little as £3
If you are an exhibitor and would like to book for one of the few remaining places at CRE National 2019, please go to the Choose your stand page.
Exhibitors
Abundant Life/Zoe Records
Access Insurance
Acet UK
Action Planning
Advice for the Voluntary Sector
AH Ministries
Alliance of Town & City Chaplaincy
Alpha Furniture
Amana Trust
Ammerdown Centre
Andrew Silley
Anthony J Smith
API communications
Apple Office Equipment Ltd
B+H Sound
Barnabas Fund
Believers Loveworld
Bethlehem Baubles
Bible Education Services
Bible Reading Fellowship (BRF)
Bible Society
Big Church Day Out
Blazing Grace
BLW Central Office
Bridges Insurance
Carbon Networks
Caladine Chartered Certified Accountants
Cambridge University Press
Canaan Christian Ministries
Care for the Family
Casala
Chapter Two Books
Charities Aid Foundation (CAF)
Charity Bank
Chawton Hill Chartered Surveyors
The Children's Society
Christian Copyright Licensing Ltd (CCLI)
Christian Friends of Israel
Christian Guild
Christian Vision
Christian Watch
Christopher Dunphy Ecclesiastical Heating
Church Army
Church Build
Church Desk
Church Edit
Church Lighting Systems
Church of England (Continuing)
Church Tools
Church Urban Fund
Churches for all
Clarity in Sound, Light & Vision
CLC Bookshops
Clergy Support Trust
CMCT
College of St Barnabas
Compassion UK
CPL Chartered Architects
CPO
Creation Ministries International
Creative Audio Solutions
Creative Solutions
Cunnings Recording Associates
CWR
David C Cook
Day One Publishing
DM Music for Churches
DSAV: Distributed Sound & Video
Ecclesiastical Insurance
Eleven 10
Embrace The Middle East
Esmond Murray Architects
Every Day God Encounters
Fullers Finer Furniture
Fund for Human Need
Garden of Delights
God TV
Good News Evangelistic Newspaper
Gopak
Green Pastures
Hewes Security
Holy Socks
Hope UK
Howe UK
Hymn Technology
Hymns Ancient and Modern
ICS Church Furnishers
iKnow Church
Independent Examiners
International Bible Training Institute
Israel Ministry of Tourism
JBKS Architects
Juliet Hemingray Church Textiles
Kevin Mayhew
Kingdom Coffee
Kisumu Children Trust
Lee Abbey
Life Events – Church of England
Lifewords
Limelight Studios
LionHudson
Livability
LWPT (Leaders of Worship and Preachers Trust)
MAF
Manna Christian Centre
McCabe Pilgrimages
Meaningful Chocolate Company
MEB Design
Mellor & Mottram
Mission Direct
Moorlands College
Nelson Catering Equipment
New Day
Nicholas Hobbs Furniture
Nicodemus
Nottingham Conferences
Novum AV
Oak Hill College
One Way UK
Open Bible Trust
Parish Pump
Phasic Ltd
Pilgrims' Friend Society
Pothecary Witham Weld
Priory Automotive
Procson New Generation Pulpits
Pulse Ministries
Purpose Driven UK
Rural Ministries
Ruth's Eden
Samaritan's Purse
Saville Jones Architects
Scripture Teaching Library
Send A Cow
SF Furniture
Siloam Christian Ministries
Sound Analysts Ltd
SPCK Publishing
SPUC Evangelicals
St Andrew's Bookshop
Star Advertising
Starfish Malawi
Stewardship
Studio Spares
Take Time Meditation
thirtyone:eight
TH Jordan
Thompson Bradford Architects
Torch Trust
Trinitas Church Insurance
Trinity Church Furniture
Tubular Systems
Unistage
United Reformed Church
USPG
Walk Through The Bible
Wippell
World Vision
Worldwide Christian Travel
Wycliffe Bible Translators
Yeldall Manor
Youth For Christ
Youthscape
Share this page