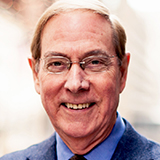 The five love languages
Dr Gary Chapman
Tuesday 16 October, 2pm, Park View Suite
Falling in love is easy, staying in love takes work. Research indicates that the head-over-heels, champagne-in-the-veins feeling lasts, on average, two years.
When disagreements surface and disappointment sets in, many couples grimly soldier on, resigning themselves to dissatisfying relationships. 'Till death do us part' becomes a life sentence. Others bail out, divorcing and sometimes trying again. Sadly, the divorce rate in second marriages is higher than in first marriages.
However, there is another, more transformative option when a union starts to sour: replacing unrealistic infatuation with a sustaining 'real love'. After years of counselling couples, Dr Gary Chapman coined a theory: marriages grow stale because spouses don't speak the same love language. He identified five languages: words of affirmation, quality time, gifts, acts of service, and physical touch.
First published in 1992, The 5 Love Languages: The Secret to Love that Lasts has snowballed into a publishing phenomenon, with more than 11 million copies sold in 50 different languages.
His seminar at CRE 2018 will focus on the languages as a biblical basis for love and relationships, helping attendees to understand their own love language, and apply the principles to help build stronger, love-focused and God-centred relationships with their spouse and families – that last.
• Dr Gary Chapman will speak on the five love languages at 2pm, Tuesday 16 October in the Park View Suite